Совместный тур Стиви Никс и Pretenders начнется в октябре
Pretenders поддержат в туре Стиви Никс
Солистка Fleetwood Mac Стиви Никс объявила 6 сентября 2016 года, что отправляется на гастроли по городам США. Как сообщает Billboard, «24 Karat Gold Tour» (названный в честь последнего сольного альбома Стиви 2014 года «24 Karat Gold: Songs from the Vault») стартует 27 октября в Финиксе, штат Аризона, и завершится 18 декабря в Инглвуде, штат Калифорния.
Таким образом, 68-летняя исполнительница даст 27 концертов, специальным гостем которых станет группа Pretenders. Как отмечается, популярный в 1980-90-х коллектив не появлялся на сцене с 2012 года, а в 2014-м его солистка Крисси Хайнд объявила о начале сольной карьеры.
Новости партнеров
Максим Леонидов отметит юбилей «музыкально-мемуарным» шоу с гостями
Юбилейный концерт Максима Леонидова состоится 13 февраля 2022 года в БКЗ «Октябрьский». В этот день музыканту исполнится 60 лет. Программа получила название «Я довольно молодой Бог…» — по первой строчке из песни Леонидова «Не дай ему уйти» — и описывается как «музыкально-мемуарное, вокально-танцевальное представление».
— Ребята! Это будет особенный вечер. Специально для него мы готовим уникальное шоу. Покажем в Питере и повторим в Москве. 30 артистов, два музыкальных коллектива и гости! Не пропустите! – сообщается на странице артиста в фейсбуке.
В числе гостей фигурируют Андрей Макаревич, Николай Фоменко, Алексей Кортнев и группа «Необарды».
Константин Кинчев отменил все концерты «Алисы» и заявил об уходе в подполье (Видео)
Группа «Алиса» отменила большинство анонсированных концертов, включая 30-летие альбома «Шабаш» в Москве, запланированное в «ЦСКА-Арена» на 19 ноября 2021 года.
Отмены коснулись также концертов в Новосибирске 28 октября и в Екатеринбурге 30 октября. Все деньги за билеты будут возвращены. Кроме того, лидер «Алисы» Константин Кинчев заявил, что из-за повсеместно вводимых QR-кодов группа вообще отказывается выступать, поскольку считает эти меры сегрегацией публики.
— Концертная деятельность группы на этом заканчивается, что не исключает подпольных концертов, о которых вы все будете оповещены, — пообещал Константин Кинчев.
Директор группы «Алиса» Кирилл Титов рассказал в эфире о неких предупредительных звонках от силовиков, поступивших организаторам концертов в Новосибирске и Екатеринбурге. При этом он указал на то, что выступления многих других исполнителей в этих регионах проходят сейчас беспрепятственно и с аншлагом.
— Группа «Алиса» перешла в разряд неугодных и ненужных. Власть сейчас избирательно относится к артистам, музыкантам, — заявил Кирилл Титов. — Тех, кто им неудобны, она, получается, лишает возможности выступать и играть концерты для вас. К сожалению, это нынешняя реальность.
В связи с вынужденной концертной паузой «Алиса» садится на плотную работу над чистовой версией своего нового альбома, надеясь его выпустить не как было проанонсировано ранее, в 2024 году, а годом раньше.
Промо
«Большой мюзикл» стартует на «Культуре»
Премьера проекта «Большой мюзикл» состоится на телеканале «Культура» 6 ноября 2021 года. Первая программа посвящена кастингу. На участие в конкурсе было прислано более 400 заявок из всех регионов России, а также из Латвии.
InterMedia напоминает, в ходе кастинга, который проходил в апреле, были отобраны десять участников – пять актеров и пять актрис, известных в том числе по своему участию в различных музыкальных постановках. Это Александр Бабик, Екатерина Бусыгина, Юлия Дякина, Юлия Ива, Александр Казьмин, Игорь Кроль, Павел Левкин, Виктория Саленкова, Павел Стукалов и Юлия Чуракова.
Каждое выступление конкурсантов будет представлять собой полноценный мини-спектакль, в котором задействованы оркестр и артисты ансамбля. Декорации, костюмы, грим, живая музыка — всё, к чему привыкли зрители в мюзикле. Благодаря присутствию камер на площадке, поклонники жанра увидят гораздо больше, чем обычно удается из зрительного зала. Кроме того, все номера абсолютно уникальны и полностью созданы специально для проекта.
В постоянный состав жюри «Большого мюзикла» вошли польский режиссер, создатель мюзикла «Метро» Януш Юзефович, эстрадная и джазовая певица Лариса Долина и джазовая певица Теона Контридзе. В каждом выпуске программы к ним будет присоединяться еще один новый член жюри, чье имя станет сюрпризом для конкурсантов и зрителей.
Review: Stevie Nicks Launches 24K Gold Tour in 'My Hometown' of Phoenix with Pretenders' Chrissie Hynde
As she stood on stage at Talking Stick Resort Arena, addressing the crowd on the opening night of the 24 Karat Gold Tour, Stevie Nicks recalled an off-the-cuff remark she made at some kind of special event leading up to the concert.
"The great thing," she said, with a laugh, "is that I get to sing all the songs. And then I thought about it and I went, 'And the not great thing is that I get to sing all of the songs.' It's crazy. After singing only one-third of three-thirds for three years.»
Then, on Tuesday, Oct. 25, her first solo outing since Fleetwood Mac finished the On with the Show tour last November, she reassured the fans with, «I just want you to know that I'm up here and I'm strong but I'm a little freaked out. Just a little. But I'm in my hometown, Phoenix, where I wrote a lot of my songs."
There's a special rapport she's developed through the years with fans here. So it came as no surprise that she would choose to launch her tour here, testing the waters with a "very different show" in an arena packed with fans who made her feel as much at home as one can feel in an arena packed with fans.
As she said at the end of the night, "You've let me know that this is gonna work and that I'm gonna be OK. And I appreciate that. So take care of yourself. Stay strong. Don't watch the news. It's depressing."
See? She's funny, too. Not just sincere and gracious.
What makes this such "a very different show" is that she's playing songs she's never played before and others that she hasn't touched in ages, setting the tone for the 20-song performance with the old-school Memphis soul vibe of a track she hadn't played in 16 years, "Gold and Braid."
"Bella Donna" was back in the set list for the first time since the very early '80s, and four songs made their live debut – "Belle Fleur," "Wild Heart," "If You Were My Love" and the Buckingham Nicks song, "Crying in the Night."
Nicks marveled at how long it's been since that first album she recorded with then-boyfriend Lindsey Buckingham.
"Forty-three years," she said, before recalling, "This was gonna be the single off the Buckingham Nicks record. It was so long ago, I don't actually remember if it ever was the single or made it out. I know I remember sitting in the basement and working this song out."
She talked a lot, at one point joking, "Someday, I may do a show where I don't even sing. I'm just gonna talk." And that was only after realizing how much she had been talking and telling the crowd, «You know, it's like I'm not really supposed to talk this much."
That's the conventional wisdom, anyway. Keep the show moving. Or as people have been known to shout, "More rock, less talk."
In practice? All that talking only serves to draw you deeper into Nicks' world, creating a level of intimacy that's hard to come by in a room that size. As Nicks said at one point, "I'm glad I was able to share this first night of trying to get this all in my head with you. You have been like great friends sitting in my living room listening to my new demos.»
And those demos sounded great. Nicks' voice was in beautiful shape throughout, and the musicians she's assembled for this tour (including Tempe's Al Ortiz on bass and Nicks' longtime musical director Waddy Wachtel on guitar) did a brilliant job of fleshing out the songs, from the bass-driven groove of the opening numbers, "Gold and Braid" and "If Anyone Falls," to the three Fleetwood Mac songs they played, "Gold Dust Woman," "Rhiannon" and "Dreams."
And as those Fleetwood selections would suggest, it wasn't all about the road less traveled. In addition to those relative obscurities, they dusted off a handful of her biggest hits, including "Edge of Seventeen," "Stand Back" and a beautiful, bittersweet "Leather and Lace," her Don Henley duet, which featured gorgeous harmonies from Nicks' female backup singers and brought the encore to a finish after one last story.
"I didn't write it with Don Henley," Nicks recalled, "but I was going out with Don Henley so I would play it for him and he would say, 'That sucks.' And I would say, 'OK (because you're, like, an Eagle)' and then I'd go back and I'd work on it. And this went on for, like, a couple months. And one day, he said, 'It's good.' And I went 'OK, so we're done?' And he said, 'We're done.'"
She also dusted off her other big '80s duet, the Tom Petty collaboration "Stop Draggin' My Heart Around," with Chrissie Hynde of the Pretenders standing in for Petty. It was great to see those two iconic artists share a stage, especially considering a quote I read from Nicks before the show: "When my manager said, 'What about The Pretenders?' I'm like, 'Would they even go with me?' And he said, 'I think they would!'"
Of course they would. And Hynde was clearly thrilled to be there, joking "Yeah, we did our nails together" during the Pretenders set, which started off strong with two raucous selections from their excellent new album, "Alone" and "Gotta Wait."
Hynde was rocking an Elvis Presley T-shirt and a pair of faded jeans (in stark contract to Nicks, with her dresses and shawls). The only other surviving member featured on that classic first Pretenders album, drummer Martin Chambers, was laying down the beat behind her.
This year's lineup also features a pedal steel player, who was put to brilliant use on a gorgeous, understated "Hymn to Her," after which Hynde told the audience, "That one was for Stevie."
The set was a good mix of crowd-pleasing staples and newer material, including "Down the Wrong Way" from her recent solo album, and "Holy Commotion," the first single out of the box from the Pretenders' new album, "Alone," which somehow sounded even more contagious live.
And she wasn't shy about returning to that first self-titled masterpiece. After blowing the dust off "Private Life" as the fourth song of the set, Hynde and her bandmates made their way through a handful of ballads and mid-tempo pop songs – "Hymn to Her" followed by "Back on the Chain Gang," "Don't Get Me Wrong" (on which she struck a playful model pose to complement the lyric "If I come and go like fashion") and "I'll Stand By You."
Then, Hynde announced "We didn't really come here to do ballads» to introduce a four-song joyride through some highlights of that first release – a commanding "Tattooed Love Boys," "Mystery Achievement," the Kinks' "Stop Your Sobbing," and the song that may be destined to remain her calling card, "Brass in Pocket."
The singer was clearly enjoying the moment on that one, investing the lyrics with the self-assurance they demand: "'Cause I gonna make you see / There's nobody else here / No one like me / I'm special, so special / I gotta have some of your attention / Give it to me." But she also made it more inclusive by sharing the moment with the fans down front , holding the mike out for a fan to sing "I'm special."
It was special. And it should have been hard to maintain that moment, but "Holy Commotion" was up to the challenge, and they followed through with "Middle of the Road," which included a killer harmonica solo from Hynde, and the psychedelic funk of their cover of Jimi Hendrix's "Room Full Of Mirror" from the "Get Close" album.
It was a spirited representation of what Hynde and her latest collection of Pretenders have to offer. And it was refreshing to see her connecting so strongly with so many people in such a big venue while reminding all the casual fans who may have drifted off after "Learning to Crawl" that she's still special.
Stevie Nicks S etlist
Gold and Braid
If Anyone Falls
Stop Draggin' My Heart Around
Belle Fleur
Outside the Rain
Dreams
Wild Heart
Bella Donna
Annabel Lee
Enchanted
New Orleans
Starshine
Moonlight (A Vampire's Dream)
Stand Back
Crying in the Night
If You Were My Love
Gold Dust Woman
Edge of Seventeen
Encore
Rhiannon
Leather and Lace
Pretenders S etlist
Alone
Gotta Wait
Down the Wrong Way
Private Life
Hymn to Her
Back on the Chain Gang
Don't get me Wrong
I'll Stand By You
Tattooed Love Boys
Mystery Achievement
Stop Your Sobbing
Brass in Pocket
Holy Commotion
Middle of the Road
Room Full of Mirrors
Stevie Nicks
359,905 fans get concert alerts for this artist.
Join Songkick to track Stevie Nicks and get concert alerts when they play near you.
Find your next concert
Join 359,905 fans getting concert alerts for this artist
Similar artists with upcoming concerts



















Tours most with




Past concerts
8
Austin City Limits Music Festival — Weekend Two
1
Austin City Limits Music Festival — Weekend One
3
Live reviews
The individual members of Fleetwood Mac have to find something to do when they're not touring their collective back catalogue to packed arenas at eye-watering prices; for Stevie Nicks, that's usually involved focusing on her solo career. Back in 2011, she turned out her first solo record in a decade, In Your Dreams, to a generally positive critical response; like most of her solo work, it focused more directly on a rock sound than much of her Fleetwood Mac material has, and the live show that accompanied it, when she hit the road in support of it, leant in a similar direction. After a joint tour in the U.S. with fellow cocaine enthusiast Rod Stewart, she played in front of 60,000 people at the Hard Rock Calling festival in London — the first time she'd stepped out on her own in Europe since 1989. In keeping with the tone of the new record, the Fleetwood Mac songs that she did perform were the heavier numbers, with an extended, jam-laden version of 'Gold Dust Woman' amongst the highlights. Solo standout 'Edge of Seventeen', too, received the full rock treatment, running over twelve minutes with a scintillating guitar intro. Nicks was flanked by backing singers, but frankly didn't need them; her voice has stood up astonishingly well to years of well-documented drug abuse. Fleetwood Mac tours are so lucrative that it's difficult to see Nicks throwing herself back into the solo arena all that whole-heartedly any time soon; should she surprise us, though, she's already got the live side of things down pat.
Stevie Nicks was outstanding! I read some negative reviews online from people who had seen the show and I disagree with all of them! Some said she talked too much between songs but I loved her stories on how the songs came to be. Also, her voice was in perfect form. She did some songs from her black gothic trunk as she called it that nobody had heard and they were great songs. She of course did some of her biggest hits and the audience went wild. Now, for the negative. Parking! We missed the Pretenders completely because the parking situation was a mess. It took over an hour from turning onto to the street the venue was on only to get directed all the way around the venue to the overflow parking lot. So many people missed them because of it.Could have been avoided with better planning by the venue. They knew the show was sold out! Cmon people. Very disappointing. 5 stars for Stevie! She still rocks!
Her solo show was awsome!!
She played all my favorite songs plus some new stuff .
She did an awesome tribute to New Orleans about Hurricane Katrina ..titled » New Orleans»,
Which a lot of people never heard her song before .
Her voice was strong and sounded so good the musicians all played very well too!
I love the fact that she told a story along with all her music songs.. she connected with her fans it was very entertaining ..
I love the Pretenders !!
They played awesome too! They sounded just like the early 90's!! Chrissy Hines looks great Too!
They still got it going on and have many classic songs..
I would go back and see Stevie Nicks agsinnin the future..
she looked great Too!!
Well first off Stevie was amazing! the concert was amazing The Pretenders were awesome! but there was one thing that really made me mad was when during the concert a drunk woman from a row behind us fell on top of us she really did kinda hurt us she fell on us and just laid there on the ground for a good 5 mins then decides to get up and go get another beer but when she went to go down the stairs she slipped on the last step and fell down again! I'm very unhappy with the way they didn't kick her out for being too drunk to go down stairs they didn't even have a staff member come check on us when the woman fell and a staff member saw the whole thing happen.
I had waited a long time for this and was not disappointed at all!! Stevie was amazing, her voice is as good as it was years ago. Video does not do her justice! She told some stories about her songs which We found really interesting!! Some of her vault songs are truly beautiful and thankfully she got them out! If she comes back am deffinately going back to see her. She twirled and did the crazy dance in gold dust woman. Amazing concert Stevie!! We love you!!
Stevie is a ballarina of lyrics and can dance harmony into your soul, and she did in May when I saw her at MGM. She was magical the first time, and then she came back with Fleetwood mac in December when she put on another fantastic show. Her love for Lindsey showed in every song and when they cried on their duet there was no dry eyes in the arena. Stevie shines and her songs are life full of experance as you should of seen
The show was great Stevie and Chrissy can still sing amazingly ❤❤. But one thing, I couldn't hear Stevie talking from where I was out the back. But I do know she talked alot and sort of got the crowd hyped with a song then the mood swayed to boredom until the next song. May have been better if I could hear what she was saying. All in all though was a great concert.
Well parking issues were a disaster very unorganized so we missed the pretenders and beginning of Stevie and then we had seat jumpers in our seats very sad the for the money that we pay for those seats that we didn't even catch that maybe 7 songs if that only Stevie Nicks
Not a bad show, her voice is still awesome as it was 40 years ago. Great set list of songs, however, her show was a bit slow because she talked about each song, and started side tracking on her stories. The band was great and so was her backup singers.
It rates right up there as one of the best concerts I've been to. For a 68 year old woman, Stevie still has the moves and the pipes she had when she was 20. Loved her stories and the songs she included that were not heard before. One fantastic show.
Videos (1)
Photos (9)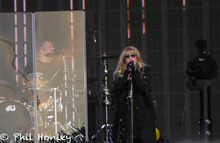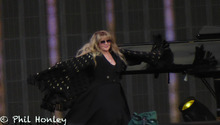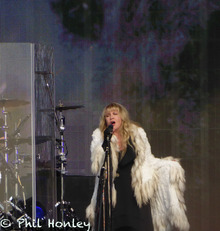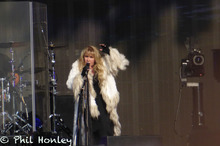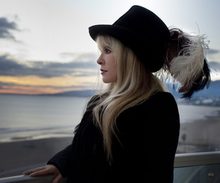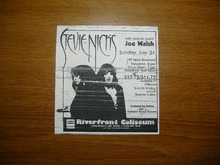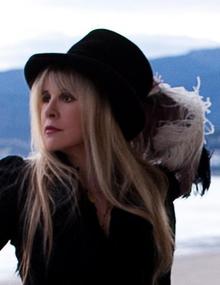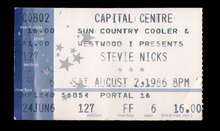 Posters (35)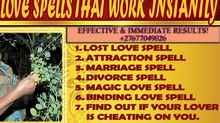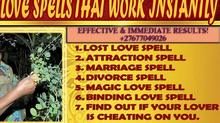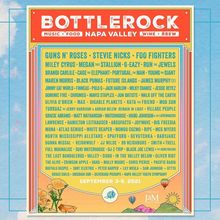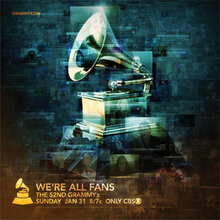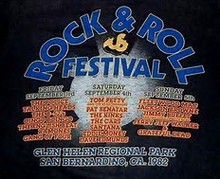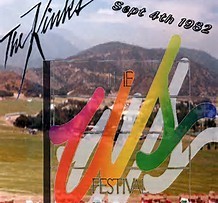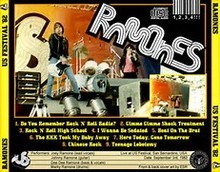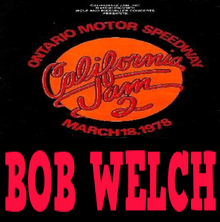 Find out more about Stevie Nicks tour dates & tickets 2021-2022
Want to see Stevie Nicks in concert? Find information on all of Stevie Nicks's upcoming concerts, tour dates and ticket information for 2021-2022.
Unfortunately there are no concert dates for Stevie Nicks scheduled in 2021.
Songkick is the first to know of new tour announcements and concert information, so if your favorite artists are not currently on tour, join Songkick to track Stevie Nicks and get concert alerts when they play near you, like 359905 other Stevie Nicks fans.
Stevie Nicks and the Pretenders: fandoms collide at first concert of Australian tour
The disparate devotees of Chrissie Hynde and Stevie Nicks came together for a night of electrifying songs and stories – with a few firm words from Hynde
Hynde's first gig since storming off the stage last week – and Nicks' first since the passing of her friend Tom Petty – made for a rousing concert with an adoring crowd. Photograph: ddp USA/Rex/Shutterstock
Hynde's first gig since storming off the stage last week – and Nicks' first since the passing of her friend Tom Petty – made for a rousing concert with an adoring crowd. Photograph: ddp USA/Rex/Shutterstock
Last modified on Fri 3 Nov 2017 00.15 GMT
P erth Arena silently judges artists who can't fill it. Curtains shroud the furthest corners of the nosebleed section, offering performers the false, almost sarcastic suggestion of a full house. It's an arena that literally throws shade.
Bruce Springsteen can play here three nights, at capacity, without a valance in sight. Lady Gaga's last appearance, however, required some drapery in the top tiers. I once – reluctantly – covered a YouTubers convention at the Arena that not only required dropped curtains round the back, but a pushed-forward stage too. Sometimes, even filling the front seats is an issue.
If Stevie Nicks or support act Chrissie Hynde and the Pretenders were disheartened by the presence of the venue's fabric screens, they didn't show it. On the first Australian stop of Nicks' 24 Karat Gold Tour, the rock legends filled the (admittedly, few) empty spaces with their commanding voices and charisma. The crowd, in turn, let them know how loved they were, at a volume akin to a sold-out stadium, throughout their marathon three-and-a-half-hour concert.
Of course, the colliding fandoms of Nicks and Hynde made for interesting cohabitation, with scores of women in black peasant blouses and top hats passing men in tattered Suzi Quatro tees. There were capes. There were shawls. There were burly dudes in AC/DC shirts. It was like an impromptu Ren Faire hosted in Mad Max's Bartertown.
Hynde walked out wearing her own merch – for the Pretenders, naturally – and delivered a rousing rockabilly set, with only one tender singalong in Hymn to Her. It was the band's first gig since Hynde angrily stormed off stage in Dubai last week, calling the audience "cunts" after they declined to put away their phones. During just their second song, Hynde began yelling out to the front rows, "Put your camera away," which may not have been the "exclusive" interaction those guests had hoped for when they shelled out $500 for the Gold VIP package.
Meanwhile, from the safety of the stalls, a man and woman struggled with the flash function of their iPhone camera as they tried to capture – in focus – themselves, their beers and the Jumbotron. Sitting behind them, you start to see where Hynde is coming from.
As the set wore on, her fans grew more excitable; a lone woman rushed the stage and began gyrating against the barricade, while a security guard could only impotently squat beside her and beg her to stop. Hynde took it in stride, cheerfully handing the woman a coveted guitar pick. Lord knows what would have happened if she'd been toting a camera phone.
Closing with Hynde's signature final cry from Brass in Pocket, the Pretenders exited, allowing the stage to be reset in the style of a seance, complete with teardrop light globes and rustic chandeliers. Imagine The Craft, as furnished by Pottery Barn.
Nicks emerged to perform the solo songs from her "dark trunk" in a voice untarnished by age. For almost each tune, she provided an airy, long-winded, ultimately enchanting tale of origin, detailing failed relationships and fortuitous collaborations with Prince and Tom Petty. She ended by thanking Perth for helping her through the first show since the passing of her dear friend Tom.
Many of the personal stories were delightful. Others – like how she taught Prince to start ruching his pants – could barely be classified as trivia, yet the audience received them happily. Even generic platitudes inspired rousing ovations, like when Nicks reminded us to "follow your dreams". An emphatic fan nearby, in a fit of positive reinforcement, was moved to reply: "YES!"
After her rollicking Tom Petty collaboration Stop Draggin' My Heart Around (with Hynde in the place of Petty) and Fleetwood Mac's classic Gypsy, Nicks settled into a groove of less familiar but personal tracks. At least one person grew restless in her seat. "Come on Stevie, play some normal songs," she screamed. It would be at least another hour before Nicks and her eight-piece band answered that request, with the wild, one-two punch of Gold Dust Woman and the still-electrifying Edge of Seventeen, followed by Rhiannon in the encore.
She relied on just a piano and acoustic guitar for the closer, the fittingly reflective and melodious Landslide. The crowd in unison held their cameras up to capture the moment for posterity, and from above, it looked like fireflies had descended. It was Nicks' most powerful moment of white witchery: turning our phones into more light fixtures. And to think Chrissie Hynde would have had us throw them away.
Stevie Nicks and the Pretenders' Australian tour continues through South Australia, New South Wales, Queensland and Victoria in November