Обзор Soldano Super Lead Overdrive 30
Soldano Super Lead Overdrive 30 Review
The return of a classic head puts many a guitar player's favorite flavor of gain back on the menu.
By Tom Beaujour 16 April 2021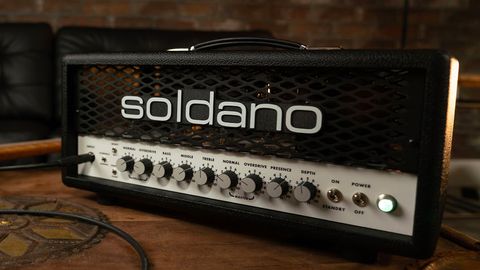 Our Verdict
That sizzling hot overdrive you like is back in style, with Soldano rolling back the years with a supremely capable tube head. It's not cheap but then the really good stuff rarely is. Little wonder it was a favorite of the world's greatest players.
Impeccably built by hand.
Sounds great at low volumes.
Capable of producing a wide range of top-shelf overdriven sounds as well as epochal high-gain distortion tones.
Against
None, but a foot-switchable effects loop would be nice at this price.
When Michael Soldano put the Super Lead Overdrive 100 into production in 1987, he could hardly have known it would become a benchmark of the amplifier industry that would remain in production more than 30 years later.
What he did intuit correctly, however, was that guitarists seeking to dial in the high-gain lead sounds that were popular at the time were being woefully underserved by the larger amplifier manufacturers of the era, whose stock offerings required expensive (and often noisy) aftermarket modifications to attain desired levels of sustain and drive.
Early adopters included luminaries like Toto guitarist and session ace Steve Lukather, Lou Reed, Eric Clapton, and, perhaps more crucial to the SLO's enduring legacy, a cohort of heavy metal shredders like Dokken's George Lynch, Ratt's Warren DeMartini, and Steve Vai
Soldano's SLO, on the other hand, offered gobs of gain right out of the box, and could do so at a sensible volume, since the amp's overdrive sound was generated entirely in the preamp section and therefore did not require ear-splitting power amp or output transformer saturation.
Word of the SLO spread quickly, and early adopters included luminaries like Toto guitarist and session ace Steve Lukather, Lou Reed, Eric Clapton and, perhaps more crucial to the SLO's enduring legacy, a cohort of heavy metal shredders like Dokken's George Lynch, Ratt's Warren DeMartini, and Steve Vai.
From the early 1990s, Soldano and a small team of employees handled all the company's production in his Seattle workshop, but in late 2018, Soldano announced he would sell his company to the larger Boutique Amps Distribution company.
Manufacturing would shift to B.A.D.'s Huntington Park, California, headquarters, where they also hand-build amps for other high-end brands, like Friedman, Morgan, Synergy, and Tone King. Soldano, meanwhile, would remain involved as an adviser and design new products for the line bearing his name.
After successfully bringing the flagship SLO-100 to market, the first fruit of this new arrangement is the Super Lead Overdrive 30, a more affordable "small box" version of the flagship SLO-100 (which B.A.D. initially collaborated on for the redesign).
The 30 employs a five 12AX7–equipped preamp circuit identical to the 100's but is powered by a duet (versus the 100's quartet) of 5881 tubes, a power-plant profile more appropriate to recording studios, small stages, and home users than its bigger brother's.
Soldano notes that this lightened tube complement could well have yielded 50 watts, but he wanted to keep plate voltages across the power tubes low enough to allow them to "give" a little at high-volume settings.
Although SLO-30s can be ordered with several cosmetic options, including bright purple and even snakeskin Tolex, our review amp was the base-model black variant with a matching metal grille.
At 30 pounds, the head is a breeze to lift, and nary a grunt, sigh, or whimper was emitted when I removed it from its shipping box and placed it atop a Celestion Vintage 30–equipped Bogner 4×12 cabinet.
Plugging into the SLO-30 with a Whitfill Telecaster-style guitar with proprietary Onomac Windery pickups, I quickly realized why the Claptons and Reeds of the music world were enamored of the SLO
Front-panel controls include a trio of mini switches (a global bright switch, a Normal or Overdrive channel selector, and a switch to toggle between the Normal channel's Clean and Crunch modes), individual gain and master volume controls for each channel, and shared bass, middle, and treble controls, as well as shared presence and depth controls that adjust, respectively, the amount of high and low frequencies being generated in the power section of the amp.
Power and standby switches also reside on the front of the unit, a boon for studio owners who stack multiple heads in their control rooms. A quick look at the rear of the SLO-30 reveals an impedance selector, two speaker outputs, a post-power section line-level out, a jack for the included channel foot switch, and send and returns for a tube-buffered effects loop.
According to Soldano, this newly designed circuit replaces the SLO's original, more finicky loop and promises to play nicely with both instrument-level stomp boxes (it did so with my Catalinbread Topanga spring reverb and MXR Carbon Copy delay) and high-end line-level rack effects.
Plugging into the SLO-30 with a Whitfill Telecaster-style guitar with proprietary Onomac Windery pickups, I quickly realized why the Claptons and Reeds of the music world were enamored of the SLO. The Normal channel (with the bright switch engaged, counterintuitively) yielded flattering, tight-bottomed, snappy clean sounds that were never shrill.
Switching the Normal channel to Crunch mode produced a refined and inspiring range of ever-so-lightly (and forgivingly) compressed colors. From a smattering of Keef-esque growl to more aggressive hard-rock rhythm crunch, there's really no color in the overdrive rainbow that you can't conjure by correctly balancing the gain and tone controls and fine tuning the amp's character with the depth and presence knobs.
Even with the Whitfill Tele-style, engaging the Overdrive channel unleashed a bounty of molten gain and sustain while conserving the oomph of every pick attack.
However, when confronted with a Jackson USA Soloist loaded with a Seymour Duncan JB bridge pickup, the SLO became a veritable sonic time machine, transporting me back to the 1980s glory days of the Sunset Strip and the hard rock it spawned.
Maybe it's because so many of the licks and riffs of the era were actually recorded using Soldanos, but this amp really has the sound.
The low-end punch of low-E string pedal tones, the harmonic richness of staccato dyad riffs, the legato run and dive bomb–friendly sustain – it's all there. And due to the fact that Soldano now uses DC heaters on its preamp tubes, there was almost none of the extraneous noise or hiss endemic to most high-gain amps.
I suspect its 30 watts would prove sufficient in almost any live situation, and probably even elicit the required, "Can you turn that down?" from your curmudgeonly front-of-house engineer
That said, a word of caution: This amp is not particularly well-suited to reproducing the mid-scooped thrash sounds that also rose to prominence in the late '80s. The frequency range and Q (width) of the midrange control don't attenuate the correct frequencies, and the amp sounds hollow and diminished, not lean and mean, with it dialed down.
Given these times, I was not able to test the SLO-30 in performance, but I suspect its 30 watts would prove sufficient in almost any live situation, and probably even elicit the required, "Can you turn that down?" from your curmudgeonly front-of-house engineer.
The good news is that rolling back the master volume will cost you virtually nothing in terms of tone. The SLO really does sound great at almost any volume, even bedroom-safe woodshedding levels. Sure, at $2,699 street, it's expensive. But you only live once.
SLO100 Super Lead Overdrive review by Soldano
n n Sound — 9
n I use a Gibson USA SG Special (Faded) with Gibson's 490 pickup in the neck position and a Seymour Duncan SH-5 that I have installed in the bridge possition. Like I said above I use this guitar with a Hi gain setting on the amp for mainly metal and hard rock, It suits these styles of music perfectiy.nnThe only instance where this amp produces unwanted noise such as 'bad' feedback and static type noise is when the gain is set up in its highest settings, about 8 through to 10. To counter this noise I uses a Boss NS-2 to keep clarity in my notes but I would only uses these Hi gain settings for music such as Cannible Corps and Blood Bath.nnAlthough this amp only has a 3 band EQ for two channels it will certainally adapt for any tone with a little tweek on the diles, remember that this is a very loud amp and the clean will only start to crunh when it is set up to about 3 quarters volume. But then again with tones like that wou have to take into consideration thie individuals equipment. nnThe distortion sound is immensely brutal, I can assure you! Distortion is what it was built for and quality distortion is what it delivers. Of course you would have to hear it to get the full experience but for example I can easily produce Slayer and Meshuggah type distortions once the overdrive channel gets past half way.
n n Overall Impression — 9
n Overall this amp is just a work of ART. It fits my styles of music very well and is versatile enough to get me through any gig I could imagine. I truly don't have any negative comments. I feel that any player could find great tone using this amp wether they plug directly in or use a pedal board. If it were stolen or lost I would try to get a new one but considering they are about $9,000 retail price in Austraila that could be a bit hard. I hope you injoy this review, thanks for resding!
n n Reliability & Durability — 8
n I will depend on this amp in any gig or situation my band puts me into. It is by far the most solid amp I have ever owned. It has not broken down on me in the time I have owned it or in the time of the previous owner. Pride in craftsmanship is a hallmark of Soldano Custom Amplification. Soldano flatly refuse to compromise quality. They obtain the best parts available and then spend the time to carefully assemble these parts by hand to create the highest quality and most reliable guitar amplifiers possible. nnThe attention to detail is obsessive. They don't have an assembly line, nor do they subcontract subassemblies out to developing nations. Every amp is crafted at the work shop in Seattle, and each is wired, start to finish, by one technician.
n n Features — 7
n Hello UG users. I thought that first of all I should point out that this is my first review of any musical equipment on any guitar web site so constructive criticism would be appreciated.I have been dedicated to playing guitar of all styles for about 8 years now so I do have a reliable amount of knowledge on the subject. nnI believe this amp was made in about 2007. The SLO-100 has two channels, the Overdrive Channel powers the classic Soldano sound heard on countless recordings and in live setups everywhere, the Normal Channel has a Gain Selector Switch allowing the user to choose between Clean and Crunch options. A Bright Switch adds highs to the Normal Channel selection. Each channel is equipped with independent Preamp Gain and Master Volume Controls. The SLO-100 also features three-band equalization (Bass, Middle, and Treble), Presence Control, and a channel switching Footswitch. The SLO-100 has a professional level (+4db) series effects loop and a slave output. This amplifier uses the finest Military Grade components and specially designed transformers. It comes with a transferable limited lifetime warranty. nnI play a wide variety of styles ranging from blues to classical to metal and all the way through to folk and pop. My primary style is metal (Opeth, Dream Theater, Mastodon, Pantera) and this amp, even though it was primarily built for metal and has so much gain my dead mother covers her ears to get relief fron the power. You could be in a Ting Tings cover band and this thing would still sound great. nnThe one thing I would personally like to see on this amp would be seperate 3 band EQ for both channels but that is just in my personal taste. I like to have as much control of each tone setting as possible. This isnt a problem though because the tone settings availabe are very colourful and any decent player will be able to find an incredible tone.
Гитарно-музыкальный исторический журнал
Более 60 000 музтоваров и лучшие гитары на SKIFMUSIC.RU Скидка по промокоду GUITARBLOG
Soldano SLO-30 Classic
Soldano анонсировали новую версию своей легендарной ламповой головы Super Lead Overdrive, отличающуюся умеренной мощностью, для нужд небольших и домашних студий.
С самого своего появления в 1987 году, Soldano SLO-100 стал эталоном настоящего рок-саунда, завоевав признания гитаристов от Эрика Клэптона и Джорджа Харрисона до Эдди Ван Халена и Мэттью Беллами и породив ряд незаконнорожденных бастардов вроде Peavey 6505, EVH5150 и Randall Thrasher. Это, пожалуй, второй по востребованности и элитности среди звёздных музыкантов гитарный усилитель после Dumble.
Давайте же разберёмся, чем же отличается SLO-30 от своего папы.
Преамп тридцатки, также как и у сотки, реализован на пяти лампах 12AX7. Оконечник уполовинен до пары 6L6. Каналов по прежнему два, с независимыми регулировками гейна и мастер-громкости для каждого канала, общим трёхполосными эквалайзером плюс регулировками Presence и Depth в мастер-секции оконечника. Чистый канал оборудован бустером, превращающим его в кранч и полосовым фильтром брайт. На борту имеется отключаемый буферизированный разрыв с регулировкой уровня возврата, а также линейный выход, который можно также использовать для слэйвинга, линкуя несколько усилителей и выстраивая целую стену звука.
Как видите, функционал и возможности SLO-30 ничем не отличаются от SLO-100. Ничего не урезано, за исключением мощности. Также как и сотка, голова производится в США, на тех же самых компонентах. Отсюда и весьма недешёвый ценник. На то оно и Soldano. У производителя был опыт бюджетного производства азиатских версий Hot Rod под брэнднэймом Jet City, но успехом он, к сожалению, не увенчался. Так что только США, только хэндмэйд, только привилегированный класс.
Но это всего лишь общие слова, так что лучше самим один раз услышать, чем сто раз прочитать. В приведённом ниже ролике Ола Инглунд наглядно продемонстрирует звучание этой головы.
Тема: Soldano SLO-100
Опции темы
Версия для печати
Отправить по электронной почте…
Отображение
Линейный вид
Комбинированный вид
Древовидный вид
Soldano SLO-100
Мне кажется, аппарат заслуживает отдельной темы. Чем чаще играю на нем, тем больше понимаю, что это — эталон хай-гейн звука, тем больше проникаюсь всей монументальностью и аурой этого усилителя.
Вчера пощелкали его.. одно удовольствие даже глазеть на такую крутую простоту.
по чем он бушный примерно? что-то давно уже хочется
От трех.
Аппарат очень крутой, играл на таком.
Один из тех аппаратов, которые стоят своих денег.
Ни разу не жалею той астрономической суммы, что за него отдал.
Мог, будучи еще студентиком, себе мотоцикл купить или фиговую машину, но вышло куда лучше.
Skervesen custom 6, Ran Crusher 8, PRS HBII, Jackson SL1 nat, +.
Soldano SLO 100, Mesa mark 5:25
2×12 Orange
4×12 Mesa Boogie w Hempcones
Мечтаю: Dumble ODS
Точно. Если следующую бошку себе буду брать! Сто пудов СЛО
в моем wish list находится с 2008 года. когда-нибудь осуществлю сие
Не успел, прослушать как следует его кранч, чистый и т.д., но перегруз у него суперский как по мне, самый приятный и читаемый.
Chelovek, кранч тоже клевый. Чистый — стандартный, хайгеновый, но на синглах рубить можно
p.s Солдано рулит
Тоже обожаю этот минималистичный дизайн. Про звук хайгейна молчу — Фарид в начале все сказал.
Последний раз редактировалось nosorock; 09.07.2013 в 15:14 .
Gibson LP Custom Suhr ssv/ssh+; Gibson LP Classic 490r/498t; Fuckoff LP Custom; Fender Telecaster TL-72 (Japan); Alvarez 6020c (Acoustics)
Soldano SLO 100; Fender Bassman Blackface; Fryette Pittbull Ultralead EL34
Yerasov GX212 V30; SMB Attenuator AT-1
MSD Silvermachine MK2; Uni-Vibe Stereo Chorus; Carbon Copy Analog Delay; DSD2 Digital Delay; Morley Little Alligator volume pedal; Ibanez chromatic tuner LU30; SMB Smartbox; Radial Headbone VT
А ещё есть Soldano Avenger, с гейном от SLO-100. Было бы интересно узнать, чем его перегруз отличается от SLO-100, но наверное не каждый может их поставить рядом, для сравнения.
Yerasov Boggart 30, Bosch 2-28 DV
Привет всем!
А вам интересно знать, что прототипом Soldano SLO-100, была банальная Yamaha T-100!!
Майк Солдано сам говорил об этом об этом.
Если кто хочет почитать на «заморском» то :
_______________________________________________________________________
«Okay Vince, here's the deal on the Yamaha T50 and T100 amps. I did design those amps for Yamaha back in the late '80s.
And yes, I did get paid a «healthy sum» for my services (ha,ha,ha!).
Design-wise, it's a very good amp — it wouldn't have done me any good to have my name associated with a piece of junk, now would it?
Of course Yamaha had certain design features that they wanted to see — but, for the most part, they left how the amp sounded up to me.
Therefore, the gain structure, voicing, reverb, etc. are quite similar to what you'll find in my SOLDANO amps.
I had nothing to do with the final physical design or production of those amps.
Construction and quality-wise, the Yamahas were no SOLDANOs by any means, but they were still fairly well built units. I felt, at the time, they were a good value — they packed a lot of bang for the buck.
I should point out, however, that there are a few things that Yamaha did that I wasn't happy about on those amps.
First, mainly as an effort to reduce costs, they eliminated the filter choke in the power supply and replaced it with a large power resistor.
While this is quite a common and acceptable practice in low wattage amps or preamplifiers, I feel that in higher powered amps it hinders the amp's ability to deliver good, punchy low end at higher volumes.
The reason for this is that the resistor causes the high voltage supply to drop, or «sag», during times of high demand (such as «chugging» on the low E string), whereas the choke doesn't.
Fortunately, this problem is easily remedied by removing the resistor and wiring in a choke.
Any competent tech can handle this job, or you can send the amp out to my shop and have us do it for you.
The second thing I didn't like was the choice of speakers in the combo amps.
Those amps were equipped with 100w Celestions, which I thought sounded very «stiff» and sterile.
My last complaint with those amps is a change that was made to the reverb circuits after the amp went into production.
They really screwed things up on that, and to this day I still don't know what the hell they were trying to do.
All I know is that it made the reverb very weak and lifeless. I opposed the revision, but they went ahead and did it anyway.
The early amps had my original design, and the late amps can be modified to get them back to that design.»
____________________________________________________________________
Для тех, кто не дружит с Английским,
то там говорится о том, что действительно прототипом была Yamaha T50 и T100 и что он сделал это в конце 80-х.
У Ямахи были конструктивные особенности, которые отличают её от СЛО и он был от них не в восторге.
Ничего общего с окончательным вариантом не было.
Но, любой компетентный мастер, может переделать блок питания.
Ещё ему не нравились динамики Селейшены 100 Вт (я с ним солидарен).
А так же ревербератор не давал ему покоя.
Короче,
если сильно захотеть, то можно получить «клон» СЛО из Ямахи.
ВЫ НИГДЕ НЕ КУПИТЕ В РОЗНИЦЕ ТРАСФОРМАТОРЫ «DeYoung», которые стоят только в СЛО и применялись в ХайЭндных аппаратах для дома!
(у остальных Солдано стоят трансформаторы Mercury Magnetics)!!
А это согласитесь проблема.
Хотя злые языки утверждают, что теоретически, можно с этой задачей справиться, всё переделать и перепаять.
Я лично никогда не переделывал Ямах и поэтому рассматривайте меня, как «будку гласности».