Обзор Electro-Harmonix Nano Operation Overlord Allied Overdrive
Electro-Harmonix Nano Operation Overlord Allied Overdrive Review
EHX shrinks its hugely flexible OD pedal with impressive, amp-like results.
By Matt Blackett 27 April 2020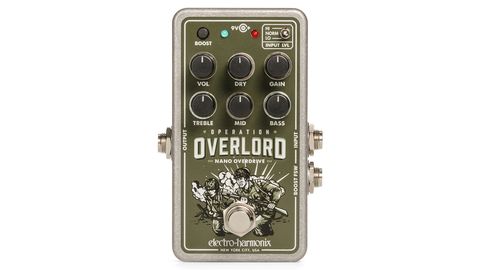 Our Verdict
An amp-style overdrive that offers great versatility for guitar, bass and beyond.
Amp-like tone and feel.
Powerful EQ.
Tiny footprint.
Against
The Electro-Harmonix Operation Overload pedal is a great-sounding stereo overdrive pedal that puts tons of tones at your fingertips. But what if you, like many other guitarists, don't really need stereo operation? EHX has thoughtfully delivered the new Nano Operation Overlord Allied Overdrive, a mono pedal that creates the same overdrive and distortion tones as its bigger sibling, but in a smaller box.
The first thing you'll notice about this EHX overdrive is that it is tiny. Yay! The second thing you'll notice is that the power-strip-hogging wall wart is not. Oh well. More important than any of that is the sound quality, and the little Overlord scores a victory on that front, with open, amp-like tones and smart features that make it compatible with just about any instrument, including bass and keyboards.
EHX has squeezed six control knobs on the Nano pedal's face. They include volume, dry level and gain, and treble, mid and bass controls for the active three-band EQ. There's a boost button to select between Normal and Boost modes, and a three-way switch to choose lo, normal or hi input levels, making it easy to match (or mismatch) the pedal to hotter or weaker signals..
The heart of the Nano Overlord is three JFET gain stages that provide the amp-style overdrive. I plugged a Fender Strat into the Nano Overlord and got a super-transparent Jimi tone — not too clean, but not too distorted. The three-band EQ provides a lot of range, but I really liked the tone with everything at noon. Cranking the gain knob higher gradually dirtied things up, but not to the fuzzy or fizzy realm. When I wanted more distortion and sustain, I engaged the boost (switchable both on the front panel and via an external switch).
With just these functions, I had a great range of rock and blues sounds that worked equally well with single-coils and a humbucker-equipped Dean guitar.
The Overlord gets even more interesting with the dry level control, which lets you add your uneffected signal to the overdriven tone. This is cool for guitar, but it works really well for bass, where you need to retain some articulation amid the dirt. Using the dry level, I was able to keep all my attack and low end while still enjoying some cool Entwistle-style grit.
The control also worked wonders on a Hammond organ instrument in Garage Band when I plugged my iPad into the Overlord. This is a sweet drive pedal with a super-tiny footprint that adds life and vibe to a lot of instruments. Props to Electro-Harmonix for delivering a hip take on a tried-and-true concept.
Specifications
CONTACT ehx.com
PRICE $89 street
CONTROLS Volume, dry level, gain, treble, mid, bass. Boost switch. Hi/normal/low input-level switch
EXTRAS Three amp-like JFET gain stages provide low- to medium-gain sounds in Normal mode. In switchable Boost Mode a classic pedal-style overdrive circuit is added before the JFET stages to increase overall distortion
BUILT USA
Electro-Harmonix Operation Overlord Allied Overdrive
Electro-Harmonix's Operation Overlord Allied Overdrive is a slightly unusual overdrive pedal, in that it has full stereo capability. The dual inputs and outputs are on the sides of the case, and the left channel can be used on its own for mono operation. The input sensitivity can be switched between High, Normal or Low, which means that it can accommodate a range of guitar and instrument-level signals, including keyboards. The pedal also features a configurable boost function, and an EQ, but while the seven knobs and two footswitches inevitably take up space, EHX have managed to keep the pedal footprint down to 70mm wide without the controls feeling cramped.
At its heart lies a dual-channel, JFET-based overdrive circuit. This three-stage JFET circuit aims to produce an amp-like distortion, and the character is thus a little different from the diode-clipping circuits used in many other pedals. The gain range runs from mildly dirty to pretty filthy. A further useful feature is a Boost switch, accompanied by a rotary Boost amount control. These are obviously useful for kicking things up a notch for solos, but rather than simply add yet more gain, the default Boost mode puts a more traditional and, tonally, fairly neutral overdrive circuit before the JFET stages.
An internal switch allows the Boost to be used independently of the main JFET overdrive if you prefer — in independent mode, the rotary Boost control has no effect but the EQ controls remain in circuit. When both sections are active, the Boost control works as normal, so the boost stage appears to have been designed to produce a fixed amount of drive, while the Boost rotary control determines how much is fed into the JFET stages.
In addition to the expected Gain and Volume controls, there's a three-band EQ section with Bass, Mid, and Treble controls, and there's also a control for mixing in some of the dry signal with the overdriven one. Both the overall Bypass and Boost footswitches, which are quiet in operation, have status LEDs. As with most EHX pedals, the Operation Overlord comes boxed with an EHX 9.6V DC 200mA power supply.
Using the normal setting and with my amp set to clean, the JFET overdrive produced a slight background hiss — but it was nothing that would be a problem in live performance, and probably less than you'd get from dialling in equivalent gain on a valve amplifier. The tonality leans towards classic rock, retaining good note definition and cleaning up appropriately as you back off the guitar volume; the best results were obtained by setting the amp to a point just before it started to overdrive, then using the pedal to push it. With the EQ set mid-way, the tonality takes on a nice Voxy jangle, with the degree of drive ranging from barely breaking up to heavy rock. Pulling back the mid EQ leans things more towards a Brit Rock sound.
Switching in the drive adds weight and thickness as well as a more dense overdrive, but it doesn't seem to add to the background noise, even when a fair bit of boost is added. Again, the sound is pretty much what you'd expect from a good overdrive, and it's just what you need for loud solos!
The Dry mix control is very useful, as it enables you to keep the note attacks a bit cleaner while adding sustain; as long as you don't turn the dry level beyond the mid-way position it all sounds pretty natural. That last comment relates to guitar, but I think the Dry mix control is really useful when treating keyboards — it makes it really easy to keep the essential sound intact, while just adding a little 'hair' underneath. It's a great way to add weight to organ sounds but it can also do wonders for synth-bass and pad sounds. All in all, then, the Operation Overlord is a neat twist on the usual overdrive formula and, other than for the slight background hiss I discussed above, it delivers in all areas at a distinctly non-boutique price.
Electro-Harmonix unveils tiny but versatile Nano Operation Overlord
By Richard Bienstock 03 October 2019
Compact pedal boasts two gain modes, three-way input switch for use with a variety of instruments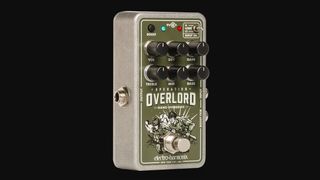 Electro-Harmonix has unveiled the Nano Operation Overlord, a compact version of the company's Operation Overlord Allied Overdrive effect pedal.
The incredibly versatile stompbox sports a three-position input switch (hi, norm, low) for compatibility with guitar, bass, keys and most other instruments, as well as foot-switchable Normal (three JFET gain stages) and Boost (classic pedal-type overdrive circuit before the JFET stages) modes for distortion ranging from boost to mild crunch to intensely saturated overdrive.
There's also a three-band EQ (treble, bass, mid) and a dry blend that is particularly useful for retaining articulation, harmonic content and bottom end with instruments like bass and keyboards.
The Nano Operation Overlord is available for $89.40 street.
For more information head to EXH.com.
Rich is the co-author of the best-selling Nöthin' But a Good Time: The Uncensored History of the '80s Hard Rock Explosion. He is also a recording and performing musician, and a former editor of Guitar World magazine and executive editor of Guitar Aficionado magazine. He has authored several additional books, among them Kurt Cobain: Montage of Heck, the companion to the documentary of the same name.
The Pick Newsletter
We'd love to stay in touch, sign up for The Pick team to contact you with great news, content and offers.
Thank you for signing up to The Pick. You will receive a verification email shortly.
There was a problem. Please refresh the page and try again.
Обзор гитарной педали лупер Electro-Harmonix Nano Looper 360
Педали-луперы обретают в последнее время все большую популярность, и теперь к их компании добавилась новая педаль от Electro-Harmonix под названием EHX Nano Looper 360.
EHX Nano Looper 360 позволяет записывать до 360 секунд звучания, которые, в свою очередь, для большего удобства огут быть разделены на 11 фрагментов. АЦП педали использует несжатое аудио с дискретизацией 44.1 кГц, что позволяет записывать звуковые фрагменты без потери качества.
Система управления педалью проста и интуитивно понятна: 2 ручки, 3 светодиода и ножной переключатель. Этого достаточно для записи фрагмента, наложения фрагмента, отмены неудачного дубля и удаления фрагмента.
Кнопка «Loop» пронумерована и поволяет пользователю выбрать для записи фрагмента один из 11 банков. Для записи фрагмента достаточно выбрать пусто банк и один раз нажать футсвич. Загорится индикатор записи, и запись начнется немедленно. Если нажать футсвич еще раз, запись закончится и фрагмемнт начнет проигрываться бесконечно.
Наложение фрагментов также делается очень просто. Во время проигрывания фрагмента однократное нажатие футсвича позволит наложить фрагмент, не меняя длины оригинала. После окончания наложения, включается функция Undo/Redo, которая поволяет пользователю отменить последнюю попытку. Чтобы отменить наложенный фрагмент требуется нажать футсвич и держать его нажатым в течение 1 секунды. Если нужно восстановить последний наложенный фрагмент, нужно снова нажать футсвич и держать в течение 1 секунды. Чтобы уничтожить фагмент, нужно остановить проигрывание и держать футсвич в течение 2 секунд.
Педаль работает от батарейки 9В, или от адаптера прстоянного тока 9.6-Volt/DC200mA
Обзор №1
Луперов сейчас не выпускает, похоже, только ленивый. Причем их функционал, впрочем, как и цена имеет обыкновение уменьшаться.
Взять хотя бы простенький Ditto Looper от tc electronic или недавно вышедший Boss RC-1. Не остался в стороне и Майк Мэттьюс и сотоварищи из electro-harmonix. Нью-Йоркцы выпустили девайс примерно таких же возможностей и цены — Nano Looper 360.
Тут для записи доступно всего 360 секнуд, которые можгно разделить на 11 различных петель. Аудио пишется в несжатом видеме в формате 24бита/44.1 кГц.
Интерфейс — проще не придумаешь, всего две крутилки и футсвитч, плюс светодиоды.
Крутилка Loop служит как раз для выбора одного из 11ти банков, куда можно записать петлю.
Чтобы начать запись, нужно просто один раз нажать на футсвитч, тут и загорится светодиод REC. Если жмахнуть на футсвитч еще раз, то запись закончится, а петля будет играть в режиме бесконечных повторов. Чтобы отключить воспроизведение нужно нажать на футсвитч дважды.
Чтобы что-то записать поверх петли, нужно во время воспроизведения нажать на футсвитс один раз. Если вы что-то записали сверху и вам это не понравилось, то есть функция UNDO. Для этого нужно нажать на футсвитч и подержать кнопку нажатой в течение 1 секнуды.
Чтобы восстановить отмененную запись (REDO), нужно еще раз нажать на кнопку и подержать 1 секундну. Чтобы удалить петлю, нужно остановить воспроизведение и подержать футсвитч 2 секнудны.
Ну и понятно, что крутилка LEVEL регулирует уровень громкости петли.
Питается Electro-Harmonix Nano Looper 360 от 9В батарейки или от обычного адаптера на 9,6В/200мА. Каталожная цена заявлена в $180, что, в общем-то, немало по сравнению с 130 баксами за Boss RC-1 и Ditto Looper от TC при схожем функционале.
Вообще, если честно, то мне несколько непонятно, откуда берутся цифры в 5-7-12 минут в максимальном времени записи при копеечных ценах на флеш-память? И что мешает встроить туда разъем для SD или microSD карточки?
Обзор №2
• Pros: A very intuitive design, making for an easy-to-use looper with excellent sound quality. Offers 11 memory locations and six minutes of recording time, better than most comparable loopers.
• Cons: Suffers from many of the same issues as all small loopers: it lacks many useful features and has limited potential for live use.
• Overall: Another solid option for guitarists looking for straightforward looping functionality without all the bells and whistles of pricier pedals. You won't regret buying it, but you may find yourself eventually craving more features.
Full Review
Tiny loopers are all the rage these days, and after Electro-Harmonix's multi-track 2880 and 45000 offerings, they've decided to get a piece of the action too. The Nano Looper 360 is a tiny unit, immediately opening up comparisons with pedals like the Hotone Wally Looper, the JamMan Express and the TC Electronic Ditto. These pedals are primarily aimed at those who just want a basic looper to improve their jam sessions without paying the big bucks to get their hands on a larger, more feature-laden unit. However, does the simplicity work in its favor, or will you just be left wanting more?
Small Stature, Simple Operation
The main feature of the Electro-Harmonix Nano Looper 360 is its simple operation. The top half of the pedal is occupied by two dials, one of which controls your loop's volume level while the other selects the memory slot you're working in. The metallic footswitch on the bottom portion of the pedal operates the record/play/overdub functions (in that order, unlike some pedals, which put you in overdub mode before you listen back to what you've done), as well as handing all the other functions: stopping playback, clearing your loop, and undoing or redoing your last overdub. The basic operation is very straightforward, tap the switch to start recording (shown with a red "Record" LED), play your phrase, tap again to playback what you've done (shown by a green "Play" LED), and then give it a final tap to start overdubbing (shown by both red and green LEDs).
Electro-Harmonix Nano Looper 360 ReviewTo stop playback, you give the pedal a double-tap, and when it's stopped you can erase everything you've recorded by holding the footswitch for two seconds (the small "Mem" LED flashes six times to confirm this). To undo the last overdub (or put it back) you hold the footswitch down for two or more seconds during playback (either of these operations is confirmed by the "Play" LED flashing twice). This is really useful if you make a mistake, but it also makes it possible to bring the top "layer" of your recording in or out at will, opening up many options for interesting compositions.
The 360 in the name refers to the number of seconds of recording time, allowing you six minutes of looping in total (with unlimited overdubs). The Boss RC-1 (soon to be released) packs double this recording time, but the 360 provides slightly more than you'll find on the Ditto or Ditto X2 (Ditto's big brother). The real bonus is that unlike the RC-1 and the Ditto, which only save one or two loops respectively, you get 11 memory locations. You loops save automatically (in whichever space the dedicated dial is set to), and you can see at a glance which locations are already occupied because the "Mem" LED will light up when it's set to an occupied location.
While splitting 360 seconds evenly across 11 locations would only give you around 33 seconds per loop, split up unevenly (with some longer, song section loops and some shorter repeating phrases) it allows for plenty of possibilities. If you spend a little more, you can buy a stompbox sized looper with tons more memory (in terms of both locations and capacity) than this, but among the class of mini-loopers, the Nano 360's offering isn't too bad at all.
Although the Nano Looper 360 can run on a 9V battery (for about four hours of looping), it comes with an AC adapter as standard. You might be expecting this, but other comparable loopers (like the RC-1 and the Express XT) don't come with a power supply, this is definitely a plus-point for Electro-Harmonix.
Electro-Harmonix also pays special attention to sound quality. The Nano Looper 360 promises uncompressed, 24-bit and 44.1 kHz sound, with no degradation in fidelity with multiple overdubs. On pedals like the the RC-1, the Ditto X2 and the Express XT, you get stereo ins and outs, but if you're just playing at home this is unlikely to be much of a big deal – more casual players will still be happy with mono audio.
Is it Worth the Purchase?
Despite the fact that Electro-Harmonix has accomplished a lot with a small amount of pedal-space, when you compare the Nano Looper 360 to all other loopers available it doesn't come out looking too good. As soon as you step up to stompbox size models, you get a hell of a lot more in terms of capability and functions. For example, many slightly larger units come with the ability to "quantize" your looping, or to ditch the jargon: the ability to correct any minor timing errors you make in your pedal presses and stretch or shrink your recording accordingly. This isn't absolutely needed, obviously, but it's one of the many nice additional features you can get if you spend just a little bit more. You may want to save money because you're just getting into looping, but for example, at the time of writing, you can pick up the much more capable JamMan Solo XT for about $20 more. Really, you aren't saving all that much by opting for the bare-bones option.
Electro-Harmonix Nano Looper 360 ReviewThis line of criticism is a little broad, though, and although it's an important factor when you're choosing your looper, it's also worth taking a look at what the Nano Looper 360 has to offer in comparison to other similar pedals. If you opt for one of these tinier pedals, you could definitely do a lot worse than the Nano Looper 360. It accomplishes its goal very well indeed, making something that's easy to use, has great sound quality and offers some useful little extras like undo/redo functions. Other mini-style loopers allow undo/redoing, but the addition of the 11 memory slots sets it apart from the competition. Some allow for more time, but fewer slots, which doesn't make any sense unless you want to record a single loop that's a whole song's length. Bigger units offer many more features, but among the Nano Looper 360's direct competition it's a really good option.
Most of the Nano Looper 360's potential lies in its simplicity, sound quality, and potential for use as an at-home practicing companion. You could incorporate the odd loop into a live performance (a backing chord progression for a one-guitarist band while you play a solo, say) or a jam session, but if you're serious about loop-based performing, it's definitely worth getting something with more memory and a smoother method of switching between phrases. As it stands with the Nano Looper 360, changing between loops isn't a particularly seamless process, with obvious gaps between stopping one loop and starting another one. You can't queue a loop up to start when your current loop finishes, you have to stop, bend down and change the dial position before manually starting the new one up. You can have a lot of fun with a selection of stored chord progression loops at home, but you couldn't stitch together a song from a few different loops without notable gaps.
Among the direct competition, the Nano Looper 360 does a great job. The sound quality is excellent, it's easy to use and it offers you a reasonable amount of memory. This all makes it a very appealing option for new loopers, but if you think you'll want to continue looping it's really worth considering spending a little bit more to get a stompbox-sized option. They're still cheap, and have much more potential for long-term use. The Nano Looper 360 makes a great occasional addition to your arsenal of effects if you're not big on loopers, but for the looping enthusiast it may be a bit too simple.